Discover more from Work, Live, BE Happy Newsletter
Leadership, life, team building, and organizational coaching for a conscious workplace.
Conscious Leaders Co-Create, Cooperate and Collaborate
The future of work won't include outdated models of competition
Last year I had the opportunity to learn the skill of facilitation from some true masters of the art at the Universidad Francisco Marroquín in Guatemala. The remarkable process they created is called "Facilitating Co-Creation." It focuses on refining projects and ideas by drawing out the best counsel and feedback from mentors and experts contributing to the project's development. It's a powerful process because everyone involved is committed to the success of the project and in doing so in a spirit of collaboration. That's why it's called co-creation; everyone is invested in creating something amazing together.
This is the future of work and leadership: co-creation, cooperation and collaboration. Too often business and leadership is characterized by competition, conceit, and conflict. But these outmoded characteristics have led us to dehumanize work and further degrade how we build authentic community. Conscious leaders understand that co-creation, cooperation, collaboration can build amazing teams that produce innovative products and services.
Some of the skills taught during the Facilitating Co-Creation process include being radically specific, trusting the process, and saying, "Yes, and…" Each of these concepts contributes towards participants co-creating together the best possible project in a spirit of friendship and cooperation.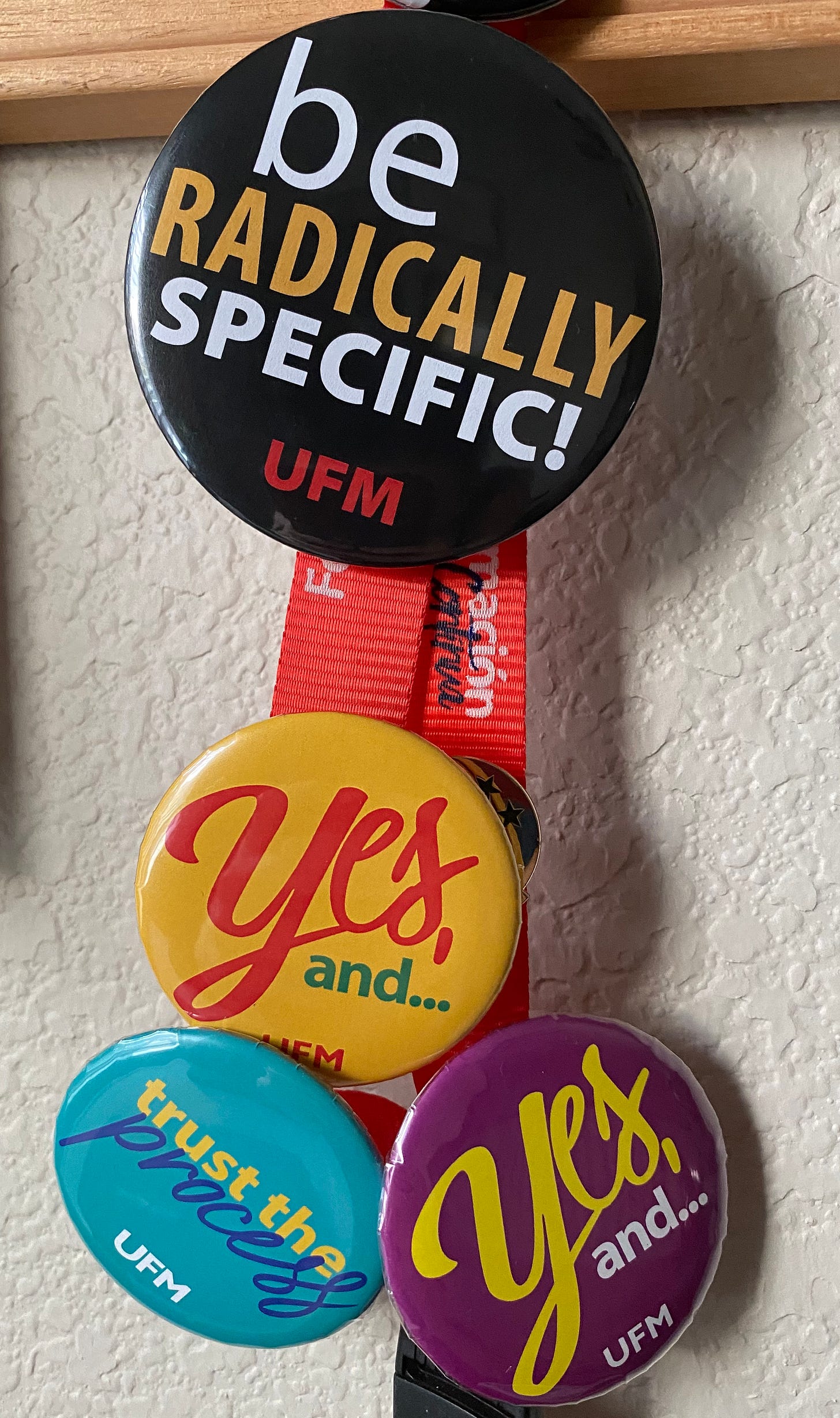 By being radically specific, each participant fully shares what they mean and clearly articulates their knowledge and insights. Each person is valued for their unique contributions. Being radically specific also means there's no equivocating for petty political reasons; the truth is shared honestly, but from a kind heart with honorable intentions.
Trusting the process means being patient and understanding that even during the challenging, formative moments of what can feel like a messy process, the end product will be better than individual working on their own without feedback. It never fails; when a powerful team is committed to co-creation, the project always ends up being much stronger than at its inception.
"Yes, and…" signifies acknowledging the value of what was shared by someone even if you have a different point of view. Instead of "Yeah, but…" which indicates disagreement and dismissal of other perspectives, "Yes, and…" opens up the opportunity for greater collaboration and stronger co-creation. It's statement that builds upon ideas instead of tearing them down.
As a conscious leader, consider how you can start fostering more co-creation, cooperation, and collaboration in your team. You can plant the seed of conscious leadership in your organization. When you're ready to do so, let's connect. The workplace and world are hungry for co-creation, cooperation, and collaboration. Be part of the change by embracing these simple yet profound principles.
Work happy. Live happy. BE happy.
Meredith
---
Meredith's coaching helps conscious leaders courageously step into the future of work. Contact her to develop your conscious leadership and transform your organization into the workplace of the future.
And if you haven't already, please sign up for this newsletter so you'll receive the latest insights on conscious leadership, remote work success, remote team building, and the future of work.
Connect with Meredith on Instagram, Facebook, YouTube, Twitter, and LinkedIn for video content related to these topics.